skynotfancy
Hay-loww!
You know how i love
minimalism
, i also now love monochromatic style too.
Monochrome might seem like an un-cool/matchy-matchy thing, but if done right, it's not.
Wearing a single color from head to toe is neat and known to be slimming too, as it visually keeps the body in a single compact line, like a straight, lean stick of Supreme chocolate-coated ice-cream. Maybe not ice-cream, in case that is not your thing (but why won't chocolatey ice-cream be your thing?! are you not human?!), but you get the point..
Also, if you are like me and have dreams of developing a personal style 'uniform', this is definitely one way to go; streamlining your wardrobe pieces to some particular hues only.

(segue, stick with me please)
'Uniform' in personal style has nothing to do with your haunting Secondary School memories and everything to do with having a
signature
look.
Don't think Mark Zuckerberg, think Dear Grand Master Karl Largerfeld and his immaculate black & white suits, my personal aunty Diane Von Furstenberg and her iconic wrap dresses, if you like casual/laid-back, Vera Wang.
Basically, it's about:
-Self-awareness and coming to a place of comfortability and confidence in what your personal style is and what outfits best express who you are.
-Your wardrobe being filled with only things you actually love/wear and that fits your body and your lifestyle perfectly.
-Easing your life by making your style decisions quicker and more deliberately. You shop faster and dress faster. One less thing to worry about.
Apart from the folks i already mentioned, lots of known fashionistas have some sort of 'uniform' that they wear. Jenna Lyon (President & Creative Director for J.Crew) whose uniform is in the cut and fit of her outfits rather than the colors, is one.
I think this photo summarizes my point best; Jenna's uniform and Solange's monochrome.
Russian style babe
Miraslava Duma
for her structured, edgy and monochromatic looks is another.
My other Russian style queen
Ulyana Sergeenko
is famous for her elegant, feminine, vintage full bottoms, cinched-in waistlines, cropped bare ankles and classic accessorizing, features that are also seen in her eponymous couture fashion line.
It-girl Alexa Chung with her minis and flat shoes and bangs.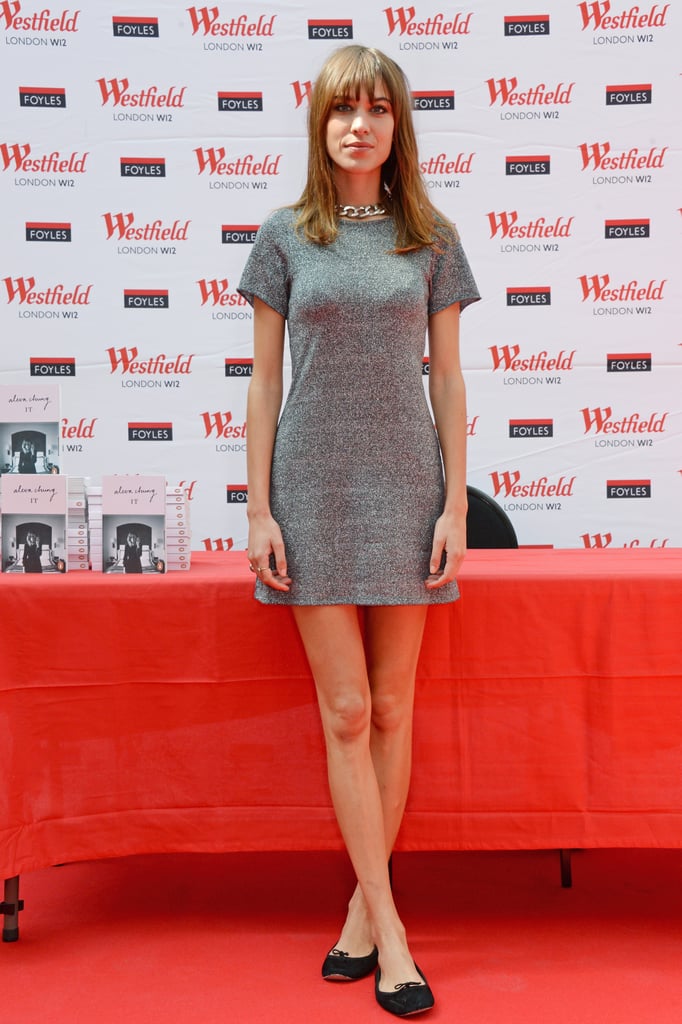 and so forth.
I made my set on
Polyvore
just to create some ideas, but you have the choice of going the color-palette route like my ultimate #goals Victoria Beckham in her black-only-wearing-days, Carolina Herrera, Uncle Karl and Dimeji Alara OR the silhouette route a la the aforementioned Alexa Chung, Jenna Lyons and Diane Von Furstenberg. Mai Atafo also.

Ask yourself these questions-
-What outfits do i look and feel my best in?
-What are my favorite, most flattering colors?
-What's my body type? this is important!
-What do i do daily? (Work, leisure, etc.) and what clothes best transition across for most of them?
By the time you answer these questions, you should be on your way.

Don't be afraid to experiment with different styles and colors until you 'find yourself'. It takes time, so no pressure.
There is also the choice of having two different uniforms in case your work/business life is very different from your personal/leisure/normal life. Like me :( OR you can keep it to one uniform and play around with accessories like shoes, jewelry and such for different occasions.


I know what i want my style uniform to be;
-Color palette: Black, White, Blue, Grey & Nude.
-Cut: Structured, Shift.
-Fabric: Cotton, Silk, Jersey.
I'm still far from there, but i am definitely on my way.
Wait. Three things occurred to me while writing this post.
It's been a long while since my last Style Icon post. I should do another one soonest.
I love fashion writing. Like, i really really love it. Researching, thinking, writing it, the images that make me imagine photographing these subjects myself and editing the entire thing. It will be the ultimate, most fulfilling thing ever, therefore, i need to be more progressive with developing my photography & editing skills, better my writing and do more with this blog. I used to collect fashion magazines for the longest time, but i've kind of stopped those. Man Repeller and 5 Inch and Up are two of my favorite pages so i should go there more for inspiration. I should also look at interning somewhere for fashion journalism..
This has to be my longest post here (longer than the Body Issue one i think), so it's probably a little more than just a 'Style Inspiration' post that it started out as. it has given me a hankering to try my hand at an editorial.. possibilities.
Photos via Google.
By the way, if you are a style blogger,
Polyvore
is your friend. Get on there.
Thank you for reading. Peace and happiness to you. x.