Halos halos my dear beautiful people.. *imagine WWE fighters entrance swag*.
Well, if you are a beauty enthusiast and/or a M.A.C cosmetics fan, then you've probably heard about the new Wash & Dry collection from the brand.
Personally, i like that MAC does these fun collections occasionally (the Rihanna ones are one of the best things to happen to makeup as we know it), and the diversity of the products are always a pleasure. To buy. Or lust after...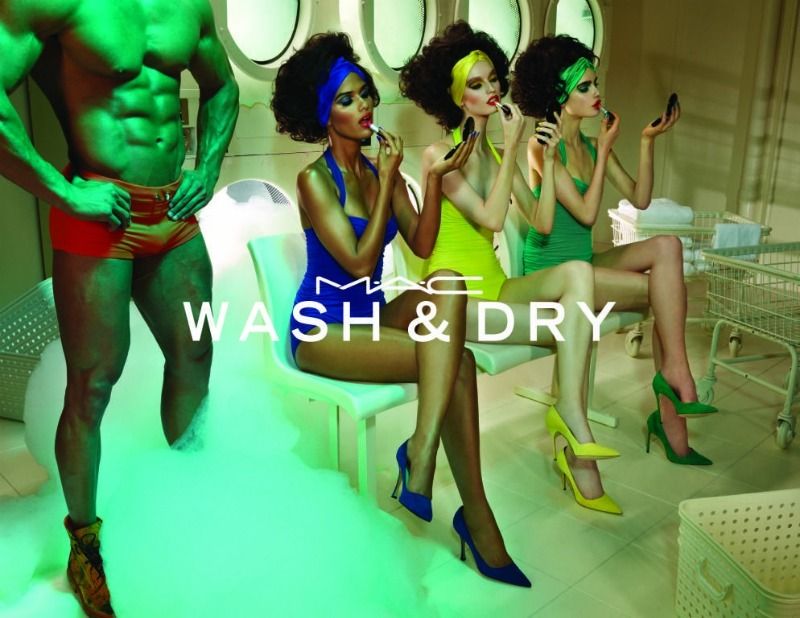 The Wash & Dry collection is inspired by the American laundromat evolution, surburbia, suds, its spin cycle, sexiness, etc, you can read more over at
maccosmetics.com
.
The campaign photos are life, i tell you. Life.
Now for a close look at the beauties in this collection-
H
IGH-LIGHT POWDER
– Freshen Up
POWDER BLUSH
– Hipness
//
Crisp Whites
LIPGLASS
– Laundry List
//
Hot/Cold
//
Girl on Board
//
Domestic Diva
LIPSTICK -
Creme D'Nude
//
Morange
//
Steam Heat
//
Tumble Dry
NAIL LACQUER
– Monday Blues
//
Washeteria
TECHNAKOHL LINER
– Practice Makes Perfect
//
Sudsy // Coin Operated // Colour Matters
FALSE LASHES WATERPROOF MASCARA
– Stay Black!
VELUXE PEARLFUSION SHADOW TRIO
– Green Clean
//
Hot Wash
//
Permanent Press
The Modern Brow set, a few limited brushes and a makeup purse are also part of the collection.
Gosh
, so much color and light and bronze and shine and it's love at 1st sight!
I cannot wait to get some of these darlings, the Monday Blues nail lacquer, the Hot/Cold lipglass, the Freshen Up highlighter, and the Stay Black waterproof mascara look very inviting (Sorry wallet, hello MAC).
If you are here in Nigeria, you can shop the collection at any of the MAC stores located at the Ikeja City Mall, Ikeja, Lagos, The Palms mall, Lekki, Lagos and the Ibadan City Mall.
Keep Walking, Frenchie!